12 Days of Giving
Announcing our First Annual 12 Days of Giving Holiday Specials!
Unwrap your first offer on Thursday, December 7.  Find a new, exclusive offer every Business Day until Friday, December 22nd.  Some offers have limited quantities so check your email, social media, website or text messages early for each days special.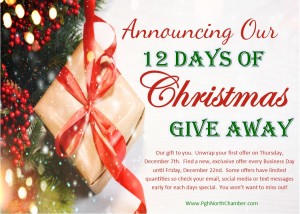 Day One of Giving:  Summer Bash Deal.  
Join the PNRC as we partner with the Pittsburgh Social Exchange & Butler Area Chamber of Commerce for their North Pittsburgh Summer Business Bash, an inside-outside mega mixer at Jergel's! Meet business owners and entrepreneurs from all over the region
Cost:  $20.00 Members
Holiday Special:  $10.00 – 50% Savings
Limit 40 People
Day Two of Giving:  Social Media Conference
Join the PNRC for a Social Media Conference.  Each session provides attendees with three hours of educational sessions and a keynote speaker.
Come for the morning, afternoon or stay all day for up to six hours of unique programming
All Day Conference:  $50                                                                                                                                                                                                                                                                                           Holiday Special:  $25 – 50% Savings                                                                                                                                                                                                                                                                         Limit 25 People
Day Three of Giving:  Website Advertising
Our digital opportunities are efficient, powerful, cost-effective ways to extend your reach to your best new business prospects, all clickable to your website.
Cost:  $125
Holiday Special
One Month of website advertising (internal page)
Only $62.50 – 50% Savings
First come first serve on pick of advertising months